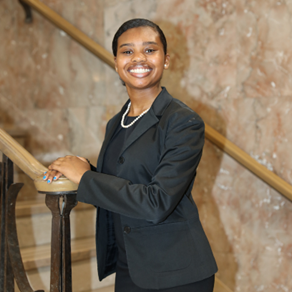 My name is Marcinia Johnson. I am a sophomore at Bennett College and my ultimate career goal is to become a defense attorney for mentally-disabled persons. I want to represent those who are oppressed and who cannot speak for themselves. I am originally from East Orange, New Jersey and relocated to Charlotte, North Carolina at the age of seven. I am a proud member at Saint Mark's United Methodist Church.
During my high school years, I was constantly balancing my education and my difficult financial situation at home. I did not have the same resources my classmates had, but was still determined to do the best I could with what I had. I was always relocating; I never stayed in the same home for more than a couple months. I had to constantly adapt to new living environments whether I liked them or not. I learned to multitask and help my parents with our home financial situation while pursuing my educational goals. I am from a low economic background, but I have the potential to go forth in my education and eventually my career.
Some places I stayed were not even close to my school district. Every day, I had to wake up at 4:00 a.m. to take the city bus to school just to get an education. Not thinking about what was going on at home was hard for me. I just put a smile on my face every day, but nobody knew I was breaking down. I did not want anyone to know anything because I did not want people to judge me or say mean things about me.
People always wondered how I got straight As. God gave me the determination and the strength to stay up studying. I did my homework before I went home because I never knew what the situation would be when I arrived. Through it all, God's hand was with me. My church family at St. Mark's United Methodist Church helped me through my situation. Some reached out, some provided financial support and transportation. They paid for my senior graduation dues and helped me with the senior exit project in the soup kitchen. The United Methodist Church took care of me and treated me as family.
As a member of St. Mark's, my faith was nurtured through my participation as an usher, singing in the choir, serving in the soup kitchen, and assisting with the Brown Bag Ministry – our outreach to the homeless shelters. Almost every Wednesday after school, I would attend Bible study to strengthen my faith and to learn more about God. Because of their involvement, I also learned about Bennett College. Church members directed me to scholarship opportunities and I was able to enroll as a student. Education is not only an important stepping stone for me, it was also an outlet growing up and offered stability from difficulties at home.
Bennett College is one of 11 United Methodist-related historically black colleges and universities supported by The United Methodist Church's Black College Fund. I want to share the powerful impact of education with others. That's why the Black College Fund, administered by The General Board of Higher Education and Ministry (GBHEM) is important to me. The BCF shows that there are people willing to help others in situations like mine. No matter what you go through, you can still become successful. I aspire to stand in the gap for others. I plan to advocate for those who feel voiceless as I did. Education is the key I need to unlock my dream and to live a better life.
Everyday my faith continues to play an essential role in reaching my personal and professional goals. One of my favorite quotes is, "God, grant me the serenity to accept the things I cannot change, courage to change the things I can, and wisdom to know the difference," by Reinhold Niebuhr. This quote is a reminder to me that even though I had to accept what I went through in the past, I can use that as stepping stones for life to make changes for my future and make room to receive the upcoming blessings God has for me.
By sharing my story, I hope to inspire others to know they are not alone, their story is important, and they should not feel ashamed of the tribulations they face. The financial contributions and resources the BCF provides are making a huge difference in my life. I hope my story will inspire others to support the Black College Fund and see the critical work that it does.