In Gwinnett County, in north central Georgia, only 39 percent of English learners graduate from high school. Corners Outreach, a nonprofit organization, works year-round to raise that number. Mount Pisgah United Methodist Church, Johns Creek, Georgia, recently received a Peace with Justice grant to assist Corners Academy, a summer program of Corners Outreach, in its ministry.
On Peace with Justice Sunday, traditionally celebrated with an offering on the First Sunday after Pentecost, United Methodists support programs like Corners Academy. Half of the offering goes to Peace with Justice ministries in the annual conference. The remainder assists the General Board of Church and Society for its Peace with Justice efforts.
With school vacation in full swing, Corners Academy's focus is on "summer slide," a time when children often lose unused reading and math skills. For many families with which the academy works, summer can also mean two months of not speaking English. In 2019, Corners Academy is hosting four eight-week summer camps to keep kindergarteners through fifth-graders on track with reading, writing and math goals. At camp, students speak and practice English daily, read aloud and play math games. They earn lunch daily through attendance, positive behavior and participation.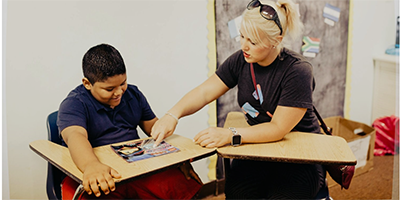 Another volunteer tutoring a youth at the Corner's Academy. Courtesy photo.
Middle-school and high school graduates of the program serve as camp counselors.
"Corners Academy," said Amy Campbell, development director, "recognizes that before third grade, students learn to read, and after third grade, students read to learn. Corners Academy works to bring students up two grade levels to get them on track through year-round education tailored to each student." The academy partners directly with schools to coordinate individual plans for each student.
"Research shows that the third-grade reading level directly correlates to high school graduation," Campbell added. "Our goal is to raise high school graduation rates." With its multigenerational focus, Corners Outreach is a catalyst for 100-percent high school graduation and improved career opportunities for underemployed parents.
"The goal," Campbell said, "is to transform students, parents and neighbors to reach God-given potential and break cycles of poverty, improving our community for all.
"During the summer, we host about a hundred volunteers who come from churches, youth groups and local business to serve each week, introducing our students to many new faces and views of life. We have a college intern for each summer camp, allowing each intern to receive community-outreach experience and allowing our students to meet and get to know someone in college." The camp culminates with an awards banquet for students, parents and staff.
The Mount Pisgah congregation supplies volunteers and assists financially, and a church member serves on the organization's board. The church's mission statement states, "We are a vital community of believers who take the Great Commission seriously. God will bless our church and those whom we serve because of our steadfast commitment to this fundamental calling from our Lord and Savior."
Thank you for sharing!
excerpt of a story by Barbara Dunlap-Berg, freelance writer and editor, retired from UMCom
One of six churchwide Special Sundays with offerings of The United Methodist Church, Peace with Justice Sunday enables The United Methodist Church to have a voice in advocating for peace and justice through a broad spectrum of global programs. The special offering benefits peace with justice ministries in the annual conference and through the General Board of Church and Society.
When you give generously on
Peace with Justice Sunday
, you give The United Methodist Church a voice in advocating for global peace and justice.
Give now
.