When Alyssa Martin was a high school sophomore, her parents decided their family should become more involved in a church. The change, Alyssa said, was exactly what she needed.
"At the time," Alyssa said, "I didn't have a lot of confidence. I felt alone and exhausted. Sometimes, I felt as if I were the only Christian in the school." Then Alyssa, her parents Glen and Diane and her sister Olivia, now 15, joined University Carillon United Methodist Church, Oviedo, Florida.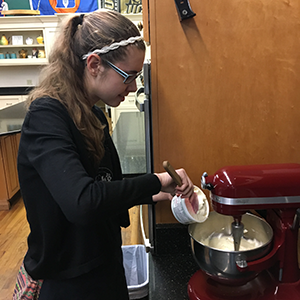 Alyssa Martin in the kitchen cooking. Courtesy Photo. Courtesy photo.
Alyssa became active in Epic, the youth group. "I made many Christian friends, learned how to read my Bible and grew in my relationship with God," she recalled. "God went beyond answering my prayers for friends I could trust. God gave me friends that led me closer to him. As my relationship with Christ has grown, my eyes have been opened to how God's purpose and timing has prevailed in my life."
In May 2016, Alyssa was confirmed. In high school, she said, "I had the opportunity to go on many retreats and give back to the church through volunteering," especially with middle schoolers. "Three times, I had the opportunity to go to Converge, a camp similar to a mission trip except we stay here in Orlando, do service projects and learn more about God."
Alyssa's church involvement continued to flourish. As a high school senior, she spoke at the church's Good Friday service. In February 2018, she began working for the children's ministry. "I have the privilege of showing love to our church 's youngest members and teaching them about Jesus during the church services, parents' nights out, Wednesday classes and other events," she said. "We also put on five camps over the summer for children in our church and our community."
Now a freshman at the University of Central Florida, Alyssa was grateful to receive a Gift of Hope Scholarship, supported by the United Methodist Student Day Sunday offering. "I can study, work and serve," she said, "knowing I'm in a financially stable position, which gives me a lot of peace."

While higher education prepares young adults for the future, Alyssa is quick to point out that students "can serve God in college by being a light in their classes, dorms, clubs, teams and friend groups. College students are in a critical part of their life where they are developing their views, values and identity," she said. "Scholarships positively impact their lives, so they can impact the lives of others.

"Education," she continued, "is preparing me to succeed in my career and be a better employee and leader. It's giving me the tools to grow my God-given talents." She is part of Navigators, a campus ministry, as well as the Burnett Honors College and Omega Phi Alpha National Service Sorority.
When Alyssa graduates, she hopes to put her business major to work. "Businesses have a huge influence on our country, our environment and our culture," she noted. "Jesus is the reason I'm living my life, and God is the writer of my story. I hope to be a light in the industry. I have strong organizational and leadership skills, but I also know that God and the lives of others are more important than the bottom line.
"I believe I can make the business world my mission field."

excerpt of a story by Barbara Dunlap-Berg, freelance writer and editor, retired from United Methodist Communications

One of six churchwide Special Sundays with offerings of The United Methodist Church, United Methodist Student Day calls the church to support students as they prepare for life in uniting faith with knowledge. The special offering provides scholarships for qualified United Methodist applicants.
When you give generously on United Methodist Student Day, you support students as they prepare for life in uniting faith with knowledge. Give now.