Heritage Landmark of Methodist education in Liberia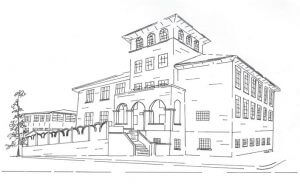 The College of West Africa (CWA), a college preparatory high school in Monrovia, Liberia, and the second oldest secondary school in the country, has prepared leaders for all levels of government, business, and social services. Several well-known people, including current President of Liberia, Ellen Johnson Sirleaf (first female President of Liberia), and current Vice-President, Joseph N. Boakai, are graduates of the College of West Africa.
The school was first envisioned by the Rev. Melville B. Cox, the first missionary to be sent to a foreign country by the Methodist Episcopal Missionary Society. Cox set sail in November, 1832, and arrived in Monrovia on March 8, 1833. Only three days after his arrival, he entered four goals for his ministry in his journal, the third being:
To establish a school here [that is at Monrovia] which will connect with it agriculture and the arts. I propose the Maine Wesleyan Seminary [now known as Kents Hill School] as a model as near as may be. There should be a large farm which should in a few years support the whole school. There must also be shoemakers, tanners, blacksmiths, carpenters, etc.
Though Cox only lived four short months after his arrival in Liberia, he did manage to establish the Methodist Episcopal Church of Liberia and those who followed eventually carried out all of his goals, including the establishment of a school. CWA was organized in the 1830s and formally opened in 1839 as the "Liberia Conference Seminary" with Jabez A. Burton as the principal. It eventually became known as the "Monrovia Seminary." For many years the school offered both elementary and secondary classes.
In 1898, the Conference authorized a reorganization of the educational program so that much needed courses in normal and ministerial training could be offered. The name of the school was changed from "Monrovia Seminary" to the "College of West Africa."
In 1904, the school was granted a charter with the "aim to impart thorough and practical knowledge in the following departments: Collegiate, Theological, Industrial, and Normal." The college was also authorized to grant degrees. For about twenty years liberal arts courses were offered with a degree after successful completion of four years' work.
In the late 1920s, R. L. Embree reorganized the program of the school, limiting its instruction to the high school level. It remains today as a college preparatory high school serving about 1,400 students. During Embree's administration a spacious and well-constructed building, "Cox Memorial," was dedicated in 1933, on the centennial of the arrival of Melville B. Cox. The school stands today as a lasting memorial to Cox's memory. It is a sister Heritage Landmark to the Cox Memorial United Methodist Church in Hallowell, Maine, USA, the home church of Melville Cox.
Taken with permission from Heritage Landmarks: A Traveler's Guide to the Most Sacred Places in The United Methodist Church, by the General Commission on Archives and History. For more information, see http://www.gcah.org/research/travelers-guide/college-of-west-africa