You can find opulence in Volusia and Flagler counties. The picture-postcard communities along the Atlantic Ocean hint at Florida's magnetic chamber of commerce qualities.
Yet, amid all that seeming perfection, you can also find homelessness, whether it's someone begging on a beach-way street corner or curling up for the night along the boardwalk.
But in the Greater Daytona Beach area, there's a success story to be told. According to the Volusia/Flagler County Coalition for the Homeless, a nonprofit agency, the area's homelessness has decreased by 70 percent since 2012.
Buck James, executive director of Halifax Urban Ministries, said a tireless coalition of six United Methodist churches has been at the forefront of improved conditions.
"The collaboration has been amazing,'' James said.
The bywords? Teamwork and prevention.
Under the Halifax umbrella, Coronado United Methodist Church, Covenant United Methodist Church, Daytona Beach Community United Methodist Church, First United Methodist Church of Ormond Beach, Riverview United Methodist Church and Tomoka United Methodist Church have partnered to provide food services and shelters.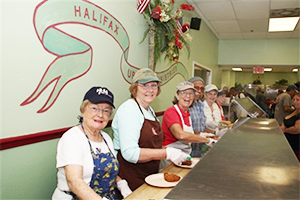 Volunteers for Halifax Urban Ministries serve meals with joy. Courtesy photo.
But there's more.
The churches are actively involved in homeless prevention. That could mean working to reduce a family's grocery bills or helping with other necessities, so there are more resources for housing costs. That could mean assistance with past due rent or utilities, along with financial education programs.
There are the traditional homeless intervention programs, as well, for times of desperation, but the churches are particularly interested in being proactive.
"We had a single mother of two teenage children with a good job, a home health nurse, but it required her to drive around various locations and serve her patients. Well, her transmission went out. That's a couple thousand (dollars in repairs). She didn't have that money," James said.
"So, our (churches) got together. When she paid for the transmission, we picked up her rent for a couple of months. That got her over the hump, and she's fine. That's why this is such a battle. A hard-working, well-meaning person can come to the brink of homelessness with one event.''
Daytona Beach Community UMC supports a wide-ranging program called "Family Renew Community" — bringing together churches, businesses, civic and charitable organizations.
It has hit home.
There was a teenage mother, once homeless, unemployed and without a high school diploma. She has since become a certified nursing assistant while moving into a two-bedroom home with her toddler.
There was a kindergartner who was living in a minivan with his father, mother and five siblings. Focusing on school was difficult. Since being mentored, though, the child now talks excitedly about becoming a scientist.
"We're all in this together. I think we've helped the issue of homelessness through creativity and teamwork," James said. "It's like they always say, you're always stronger when you do something together instead of separately.''
One of seven apportioned giving opportunities of The United Methodist Church, the World Service Fund is the financial lifeline to a long list of Christian mission and ministry throughout the denomination. Through the Four Areas of Focus, churches are engaging in ministry with the poor with their communities in ways that are transformative.
Joey Johnston is afreelance writer in Tampa.