In 2008, the Community United Methodist Church in New Port Richey had to close its doors. The story might have simply ended there.
Fortunately, the congregation decided it wasn't going to let even a setback like that put a damper on its walk with God. Members decided to reform the church as Joining Hands Mission UMC.
They refocused efforts on creating ministries that had a direct impact on the community. That way, they could grow in their faith and help others grow as well.
Over the past decade, Joining Hands Mission has grown its ministry from a simple Sunday breakfast into a community-wide network of loving and caring people who provide essential services for the less-fortunate citizens of Pasco County.
"We give people hope and a hand up while also helping them in their walk with faith. We provide assistance from both a practical and a personal standpoint," Pastor Mary Ashcraft said.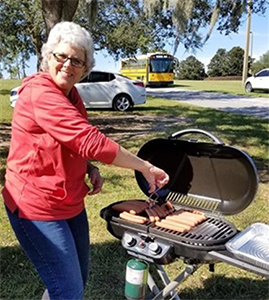 Volunteer of Joining Hands Mission UMC cooks up hotdogs for community event. Courtesy photo.
The church provides a variety of services to the Pasco community, including cold-night shelters, transportation and after-school tutoring for children.
That faithfulness has contributed to the rapid growth of the church over the last decade. The founding members of the church never lost the vision they had when they started
"God has opened door after door. We have had the opportunity to work with some great organizations in the community," Ashcraft said.
This dedication has helped the ministries grow and change lives of those in need throughout the community.
The Sunday morning breakfast, the church's first ministry, is still going strong. Anyone is welcome to attend, and volunteers from the church provide table service for the food.
"Our guests are served with dignity and respect," Ashcraft said.
Their transportation ministry is a big part of the church as well. Through a referral system, they transport patients to their doctor's appointments and expectant mothers to the West Pasco Pregnancy Center.
And, of course, they are always willing to pick people up and take them to the Sunday morning service.
Joining Hands Mission also reaches out to Pasco County youth. The church provides an after-school tutoring program that is run by both active and retired teachers.
Ashcraft credited the success to the love and dedication of the volunteers. She specifically mentioned Maria Brandes who heads up the Ablaze Youth Ministry, an outreach to area teens.
"She has a servant's heart that is truly unbelievable. She is my rock."
There are no plans to slow down. Members will keep answering the call to serve.
"We are waiting to see where God is going to take us," Ashcraft said. "We stay busy, but whenever God opens a door, we try to walk through it."
Joining Hands Mission is always looking for new volunteers to help its ministries. If you would like to get involved, can call the church at (727) 264-1288 and speak with Mary Ashcraft, or email her at [email protected].
Excerpt from a story by Jordan Chronister, freelance writer based in Tampa, FL
One of seven apportioned giving opportunities of The United Methodist Church, the World Service Fund is the financial lifeline to a long list of Christian mission and ministry throughout the denomination. Through the Four Areas of Focus churches are Engaging in ministry with the poor with their communities in ways that are transformative.