Sending students back to school on the right foot starts with a great haircut at Journey of Faith UMC in Humble, TX. Each Sunday in August the church turned into a barber shop offering children in the community haircuts free of charge. The smiling faces that accompany each new 'do are well worth the effort, Rev. Stephen Goldsmith, Pastor of Journey of Faith explained.
Faith United Methodist Church is a part of the Texas Annual Conference.

Helping students head back to the classroom with confidence has long been a priority for Journey of Faith. "In the month of August, we focus on families in our sermons," Goldsmith said. "Children are going back to school and getting ready for the year."

About three years ago, the pastor began brainstorming with his outreach team to find more ways to help students. "The idea was to become more of a family festival," he said.

That's how "School Rocks" was born. "Rocks" stands for "Reaching Out and Connecting Kids to Success."

"For all children, no matter what socioeconomic status they are, we have a responsibility at church to connect them to the resources needed to be successful," Goldsmith said.

In 2019, the church focused on gathering backpacks and school supplies to distribute to area children in need. The following year, COVID-19 placed the event on hold.

This year, Goldsmith wanted to try something new. "We put the backpacks and school supplies on hold," he said. "Other people do that."

He had a vision – free haircuts. "But I didn't know which barbershop I should go to," he said.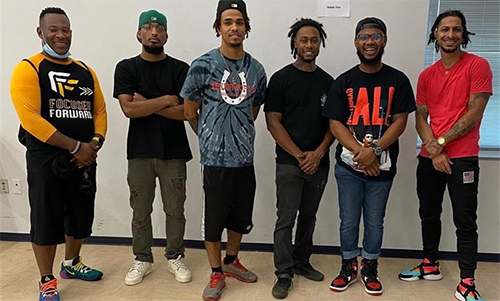 Courtesy photo.
His wife connected him to Jamal Diamond at Clarity Cuts. "We got on the phone," Goldsmith recalled. "I said that the Lord put this on my heart."
The response was serendipitous. Diamond's brother had just received his barber license, and the two had been talking only a couple days earlier about a way to offer free haircuts.
"But we didn't know where to go," Diamond told the pastor.
"If y'all got the clippers, I've got the venue," Goldsmith said.
Diamond only had one condition. Instead of one Sunday, he proposed every Sunday for four weeks. He explained, "You can only do so many haircuts in a few hours, but if you have a couple of weeks . . ."
Goldsmith loved the idea. Diamond rounded up four more barbers to help him, plus one church member Burrel Gray III, also a barber, signed up to help. "It just all came together," the pastor said. "The barbers started handing out flyers too."
The partnership with Journey of Faith and Clarity Cuts felt heaven sent. "That's what faith is," Goldsmith said. "It's all about 'I can't see how to do this, but I'll move forward.' And what resources you need, He will provide."
"Being able to impart confidence in a child when they step out of the barber chair, it's priceless, Goldsmith. "It lines up with the word of God. We can still be a blessing for our community."
"When they get older and become adults, I hope they'll say, 'I remember the church in my neighborhood, before the first day of school, offered free haircuts. I remember how good I felt. I really hope that children walk away with those memories," Goldsmith added.
The pastor also cuts hair himself.
"It's always been a pleasure," he said. "Maybe next year, I'll jump in. I'll get a chair and cut some hair too."
excerpt from a story by Lindsay Peyton, Texas Annual Conference
This story represents how United Methodist local churches through their Annual Conferences are living as Vital Congregations. A vital congregation is the body of Christ making and engaging disciples for the transformation of the world. Vital congregations are shaped by and witnessed through four focus areas: calling and shaping principled Christian leaders; creating and sustaining new places for new people; ministries with poor people and communities; and abundant health for all.