Missionary, Activist, Scholar and Writer for Women's Equality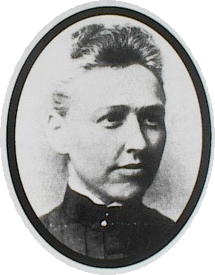 http://www.icwhp.org/cameo-katharine-bushnell.html
Born in Peru, Illinois, Bushnell's studies at Northwestern University (1873-74) foreshadowed events of her future. Firstly, she began studying Greek and Latin, which would eventually culminate in her publication of God's Word to Women. Secondly, she studied under Francis Willard, then dean of the women's college at Northwestern. Bushnell developed an interest in social justice, especially regarding the inequality of women, and later joined Willard in the Women's Christian Temperance Union (WCTU).
Thirdly, Bushnell studied medicine, which took her to Chicago Women's Medical College (where she graduated three years younger than most other medical students). She sailed for China in 1879 as a medical missionary under the Woman's Mission Board of the Methodist Episcopal Church. Due to the ill health of a missionary colleague, Bushnell was only able to stay in China for three years, but she did manage during that time to set up a pediatrics hospital in Shanghai.
In 1882, she returned with her colleague to Denver, cared for her until she died, and established her own medical practice in Denver. She also became head of the western WCTU Social Purity Department, a position, which, in 1886, caused her to give up her medical practice, move to Chicago, and become the National Evangelist of the Social Purity Department.
With colleague Elizabeth Andrew, Bushnell founded the Anchorage Mission in Chicago, a shelter which ministered to 5,000 women a year. In 1888, she testified before the Wisconsin legislature that women and girls had been forced to work as prostitutes in lumber camps, calling the situation a kind of "white slavery." A few years later, she and Elizabeth Andrew investigated the use of prostitutes by British troops in India.
Throughout her life, Bushnell's overarching concern was for the welfare of women. In particular, she was concerned with the way translations of the Bible perpetuated and intensified the subjugation of women. In her earliest years, she questioned the church's prohibition of women preaching. In fact, she told God that she would become a missionary only if He would show her that Paul did not oppose women preaching. Apparently God did show her this, through her own study of the Greek text, for she did become a missionary.
While in China, she asked why the Chinese translation of the Bible enforced women's subjugation and was told the issue was a matter of local custom. Bushnell, however, was not satisfied with this answer; she suspected a deeper problem. As she examined the English translations of the Bible, she found that they, too, degraded women. She began to realize that male translators had obscured the true meaning of the text, and until the problem was rectified, women would continue to suffer. Her work in the WCTU led her to believe that mistranslation of the Bible, even more than alcoholism, was the root cause of the abuse of women. And her interactions with prostitutes and government officials showed her the extent to which the Bible was being used to justify the mistreatment of women.
She began to advocate educating women in Biblical languages so that they, like her, could come to appreciate the true meaning of the text. In 1908 she began working on God's Word to Woman, a correspondence Bible study course, which would walk women through all the passages in the Bible that had been previously mistranslated. She hoped her translations and explanations of Scripture would affirm women as fully equal with men and discourage the continued use of the Bible to degrade women. She used examples from her missionary experiences in China and arranged the book into one hundred lessons. God's Word for Woman came out in book form in 1923. Although it was never a best-seller, it is currently celebrated by Christian feminists as being a forerunner of feminist theology. Helen Barrett Montgomery also probably used Bushnell's exegesis in preparing her 1924 translation of the New Testament.
By Anneke Helen Stasson.
This article is taken, with permission, from the History of Missiology: http://www.bu.edu/missiology/missionary-biography/a-c/bushnell-katharine-c-1855%E2%80%931946/
Bibliography
Digital Primary
Busnell, Katharine C. God's Word to Women. 1923.
Primary
Bushnell, Katharine Caroline. God's Word to Women. London: Women's Correspondence Bible Class, 1923. Reprinted as God's Word to Women: One Hundred Bible Studies on Women's Place in the Church and the Home. Minneapolis, MN: Christians for Biblical Equality, 2003.
Heaven on Earth and How it will Come. London: Marshall Brothers, 1914.
Plain Words to Plain People. [S.l. 1918?].
Take Warning! [S.l., 1910?].
Bushnell, Katharine Caroline and Elizabeth Wheeler Andrew. Heathen Slaves and Christian Rulers. Oakland, CA: Messiah's Advocate, 1907.
The Queen's Daughters in India. London: Morgan and Scott, 1899.
Secondary
Du Mez, Kristin Kobes. "The Forgotten Woman's Bible: Katharine Bushnell, Lee Anna Starr, Madeline Southard, and the Construction of a Woman-Centered Protestantism in America, 1870-1930." Ph.D. diss., University of Notre Dame, 2004.
Hardwick, Dana. Oh Thou Woman That Bringest Good Tidings: The Life and Work of Katharine C. Bushnell. Morris Publishing and Christians for Biblical Equality, 1995.
Kroeger, Catherine C. "The Legacy of Katherine Bushnell: A Hermeneutic for Women of Faith." Priscilla Papers, Fall 1995.
Links
An article about Helen Barrett Montgomery's dependence on Bushnell for her translation of the New Testament
A biographical sketch from the International Christian Women's History Project:
"The Legacy of Katharine Bushnell."
A Timeline of Katharine Bushnell's life
A summary of a Ph.D. dissertation on Bushnell and women-centered Protestantism in America