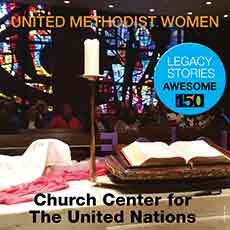 After World War II it was all too clear to the nation's churches that the world needed a viable institution to help avoid the horror of war. United Methodist Women predecessors sent cards to the U.S. State Department urging the United States to join a world peace organization founded in 1945 — the United Nations.
United Methodist Women predecessors joined the wider church and the ecumenical community in supporting the work of the United Nations and brought groups from around the country to New York City for seminars on its work.
This effort grew and church leaders began looking for more adequate accommodations for these seminars. They identified a property near 44th Street and First Avenue, directly across from the United Nations. Although it was an ecumenical effort, The Methodist Church took the lead but turned to the women for financing.
Convinced of the importance of this work for peace, the Woman's Society of Christian Service provided a total of $800,000 to secure the property and facilitate a mortgage from New York Life Insurance Company for the $1.7 million construction project.
Today, the 13-story Church Center for the United Nations continues to host groups from around the country for seminars on national and international issues from a Christian faith perspective, and is used by non-governmental organizations from around the world engaged in the important work of peace building.