Education and Equality: The Work of Mary McLeod Bethune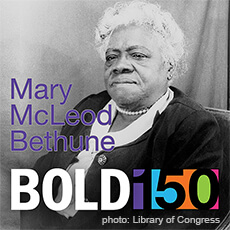 "Invest in the human soul," Mary McLeod Bethune declared. "Who knows, it might be a diamond in the rough." And invest Bethune did. This incredibly accomplished public servant founded the school that became Bethune-Cookman College as well as a training school for nurses, advised the White House, founded the National Council of Negro Women, worked towards integration of the Red Cross and served four times as a delegate to General Conference.
Bethune was born in South Carolina in 1875 to Sam and Patsy McLeod, both former slaves. She recognized the importance of access to education and devoted a significant portion of her life to educational issues. She founded the Daytona Educational and Industrial Training School for Negro Girls in 1904 in Daytona Beach, Florida. In 1923, it merged with the Cookman Institute and became a coeducational college. She also founded the Mary McLeod Hospital and Training School for Nurses in 1911, which at the time was the only school of its kind that served African-American women on the East Coast.
In addition to her considerable educational initiatives, Bethune worked tirelessly for civil rights. During the First and Second World Wars, she advocated for integration of both the American Red Cross and the Women's Army Auxiliary Corps. She worked extensively with the National Association of Colored Women's Clubs, before founding the National Council of Negro Women in 1935. During the Roosevelt administration, she advised the White House on minority affairs, and after her death she became the first black woman to be honored with a statue in Washington, D.C.
During Bethune's lifetime, the predecessor denominations of The United Methodist Church included the Central Jurisdiction, which effectively ensured segregation within the church. As Methodist leaders began to work toward unification in the 1930s, Bethune argued vehemently for the elimination of the Central Jurisdiction and a more inclusive denominational structure. She served on the Woman's Division Committee on Minority Groups and Interracial Cooperation and as a delegate to General Conference four times. She identified proudly as "a Methodist woman in mission" until her death in 1955.