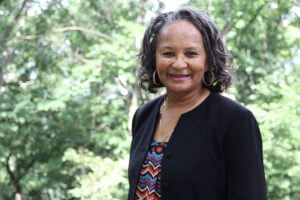 Shirley Townsend Jones, Church and Community Worker (CCW) assigned to the Bennettsville-Cheraw Area Cooperative Ministry, Bennettsville, South Carolina. PHOTO: COURTESY SHIRLEY TOWNSEND JONES
Holistic Rural Ministry
The Bennettsville-Cheraw Area Cooperative Ministry (BCACM), established in 1966, is a specialized ministry with rural residents of South Carolina's Marlboro and Chesterfield counties. With four pastors and a combined church membership below 2500, the cooperative includes one station church (Trinity UMC), two parishes (Cheraw and Bennettsville), and one circuit (Bennettsville Circuit). All of the United Methodist churches affiliated with this ministry are traditionally African American congregations in the Marion and Hartsville districts of the South Carolina Conference. These rural churches—Aaron Temple, Bethel, Ebenezer, Level Green, Mt. Zion, Shiloh, Smyrna, St. Michael, and Trinity—developed BCACM to enhance their ministries through shared efforts.
Since 1981, I've served as a Church and Community Worker with BCACM, coordinating and implementing programs and ministries to meet the spiritual, educational, economic, and social needs of the cooperative's member churches and their communities. Other pastoral leaders include the Rev. Leatha Brown, at Trinity, serving as director, and the Revs. Ebbie Abraham, Redonia Thomas, and Shawn Weeks. BCACM programs and ministries focus on meeting families' holistic needs.
BCACM embraces the United Methodist mission statement—making disciples of Jesus Christ for the transformation of the world—by coordinating and developing workshops and seminars to empower laity and clergy. The ministry strengthens its churches in outreach, witness, service, Christian education, and leadership development.
Growth in lay leadership is evidenced as more members step up to serve on local committees or on the BCACM council, which includes three representatives from each church. The cooperative provides workshops and learning labs and sometimes covers travel costs, allowing lay members to participate in church conferences. The churches and the surrounding community benefit from better trained leaders.
Serving Young and Old
At a monthly Tea Time with Teens meeting, a participant's mother commented: "I only wish this program had been around when I was in high school. Maybe I wouldn't have gotten pregnant so young." Marlboro County is currently experiencing an increase in teen pregnancies, so this ministry is designed for girls aged 13 to 18. It promotes self-esteem and encourages girls to recognize and acknowledge their feelings. It also invites women of all ages to discuss important issues and to empower one another in the struggle for equality. The program offers individual and group mentoring, while including college tours and cultural events.
Sacred Saturday Children's Ministry is a monthly, faith-based program created for one-to 12-year-olds that provides spiritual guidance and enjoyable ways to experience a personal relationship with God. Participants come from both our member churches and the community. At Christmastime, our children sing carols at nursing homes where the children enjoy bringing smiles and laughter to the residents, and the residents pour out a lot of love to the young singers. After these visits, the children return to the church for games, Bible stories, and pizza. We thank God for the opportunity to spread love, even in rainy weather.
Last summer, BCACM offered a Summer Enrichment Program in a small rural school, based on the Children's Defense Fund's Freedom School model. A staff of 16 local college students provided both educational enrichment and recreation for 80 students from Pre-K through Eighth Grade.
Senior groups from a number of the churches also meet together for Bible study, prayer, spiritual reflection, fellowship, arts and crafts, and food. Many of the older adults live alone, so this kind of gathering provides an opportunity for them to mingle with their peers. The seniors also take field trips to various events as part of a ministry that reaches across ethnic and denominational boundaries. Transportation can be difficult for some people in our community—especially seniors—so BCACM also offers a van and a bus to transport seniors to appointments and on errands.
Ministries of Hope
BCACM's Concerned Men Movement encourages men in our churches and the community to participate in a mentoring program for young adult men. After numerous meetings, this proactive movement kicked off with a great event: "One Hundred Concerned Men in Black, I am my Brother's Keeper!" More than 100 men and women supported this event at the local community center. Topics included unemployment, education, health care, law enforcement, community safety, and the future of our youth.
Another BCACM program works on raising awareness about health conditions that require early detection to ensure that patients have treatment options. Another program priority involves matching community members with health-care providers who will help them find doctors who meet their individual needs. Partnering with other health awareness groups has been a plus for this ministry in its quest to improve the health of those we serve.
Health care and good nutrition go hand in hand. With economic insecurity and rising costs for nutritious foods, hunger is an ever-present issue in the rural community. In response, our member churches cultivate community gardens. This year BCACM also participated in the "Stop Hunger Now" campaign. Congregations joined local school groups in collecting non-perishable food items. Donations of both food and funds went to the "Bread of Life" and "Grace and Mercy" food pantries.
Even though there are many social and economic challenges in this rural area, God has placed me with the Bennettsville-Cheraw Area Cooperative Ministry to help in making disciples and bringing healing and wholeness to all. With God leading and guiding us and giving us the strength we need, we will continue to make a difference in the lives of individuals and families in this rural area of South Carolina.
By Shirley Townsend Jones. Shirley Townsend Jones is a missionary who serves as a Church and Community Worker with the Bennettsville-Cheraw Area Cooperative Ministry, South Carolina Conference. This article was originally published in the January-February 2016 issue of New World Outlook magazine. Used by permission.