Mission Bishop, Ecumenical Leader, and Father of the Wesley Foundation Movement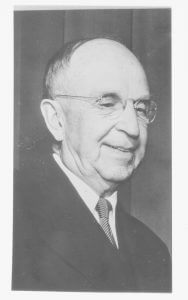 Bishop James C. Baker. Photo courtesy of the General Commission on Archives and History
Bishop James Chamberlain Baker, 1879 – 1969, was a prominent mission bishop and ecumenical mission leader who is likely best remembered as "Father of the Wesley Foundation movement"—student ministries on the campuses of publicly funded colleges and universities. He served as a bishop in three successive Methodist churches, the Methodist Episcopal, The Methodist and The United Methodist.
Prior to his election to the episcopacy of the Methodist Episcopal Church in 1928, he and his wife, Lena, developed a ministry, beginning in 1907, with students at Trinity Methodist Church, Urbana, Illinois, which was located adjacent to the campus of the University of Illinois, then a school of less than 5,000 enrollment. Across 21 years, the innovative ministry at Urbana became the model for campus student work of all faiths around the world. His designation the "Father of the Wesley Foundation" was a title that he valued as highly as he did that of "bishop." When asked on his eightieth birthday what he prized most, he replied without hesitation, "The affection and confidence of so many young people."
The bishop was born in Sheldon, Illinois, June 2, 1879, and graduated from Illinois Wesleyan University in 1898. He entered the ministry in 1900 and was ordained in the Illinois Annual Conference of the Methodist Episcopal Church. At that time, he was on the faculty of Missouri Wesleyan College in Cameron, Missouri. In 1902 Bishop Baker entered the Boston University School of Theology and accepted a student pastorate in Asheland, Mass. He received the degree of Bachelor of Sacred Theology in 1905 and returned to his native Illinois to become pastor of a church in McLean. In 1907 he accepted an appointment to Trinity Church in Urbana.
Upon election to the Episcopacy in 1928, he was named to lead the Seoul Area, which included Korea, Japan and Manchuria. He returned to the US in 1932 and after serving the San Francisco and Los Angeles Areas retired in 1952. Baker would have jurisdiction over large parts of the Pacific and West Coasts of the United States as resident bishop of the major California cities.
The bishop was deeply involved in the International Missionary Council (now Commission on World Mission and Evangelism of the World Council of Churches), serving as its vice president for many years starting in 1938. He chaired the highly important 1947 World Missionary Conference in Whitby, Ontario, Canada, a meeting which recognized the vital role of indigenous churches of Africa and Asia in mission life and history. He took part in landmark ecumenical conferences pre- and post-World War II, including Oxford in 1937, Madras in 1938, and Cambridge in 1945.
After retirement, Bishop Baker remained active in church affairs. He taught at the graduate School of Theology of the University of Southern California for several terms, and he showed his lifelong concern for students by donating to the school, after it moved to Claremont, California, most of his personal theological library. He died on September 26, 1969.
_____
Narrative by Elliott Wright, adapting material from the November 1969 issue of World Outlook magazine, data from http://prabook.com/web/james.baker/283079, and the online archives of the General Commission on Archives and History of The United Methodist Church, http://catalog.gcah.org/publicdata/files/4642/baker-bishop-james-c.pdf