Africa University junior Mellan Nyagato, 21, would love to go back to the way things were less than two years ago.
Your support of the Africa University Fund apportionment supports the general operating expenses of Africa University including faculty and staff salaries and vital infrastructure.
Before COVID-19, the social work major lived in the AU dorm. Her family included her parents, two younger sisters and an older brother.
"My dad was the breadwinner," Mellan recalled. "He was actually stronger and healthier than my mother. She is a nurse." Then the pandemic struck, claiming Mellan's father, Enock Nyagato, in July 2020.
Mellan and her siblings are not alone. As of April 30, more than 19 AU students and staff have lost loved ones to COVID-19.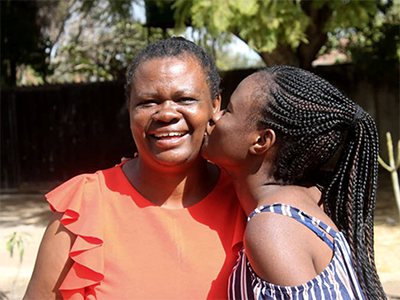 Mellan Nyagato kisses her mother, Jestina, who is recovering from a stroke. Photo courtesy of Mellan Nyagato.
"My mother is our major worry," Mellan said, "since she is exposed to the pandemic." Recovering from a stroke, Jestina Nyagato is susceptible to seizures and suffers from chronic blood pressure problems. Putting food on the table and paying tuition fees and bills is an ongoing struggle, but Mellan's mother persists.
"My three siblings have been healing," Mellan said. "They are motivating each other to continue working hard to reduce the stress on our mother, and to make our father proud. To earn a little money, they sold mufushwa (sun-dried vegetables)."
"Though things are hard," Mellan said, "my mother is trying to make sure that I continue at Africa University."
Since August 2020, Mellan and her younger siblings, ages 10 and 12, have been restricted to online learning. "The expenses of Wi-Fi have been tough," she said. "The amount that my mother is paying monthly is not sufficient for all of us. At times, I attend class for the first 30 minutes only." Sometimes, Mellan and her siblings skip a day or two of lectures so they can stretch their Wi-Fi as far as possible.
"Electricity is also a major problem," Mellan continued. "I once spent a week without attending lectures, and catching up was hard. I had to ask others for help. During exam period, I wrote one of the exams at my mother's workplace."
Learning from home also means sacrificing discussion opportunities. Finding a time that works for all participants is next to impossible. "We end up giving each other the sources where the information will be," Mellan said.
She is grateful for Africa University staff members who check up on her and her family.
She communicated with Phillip Bohwasi, a lecturer for one of her courses.
"I was traumatized with everything that had happened. ... I shared with him my experience, especially the fact that my father died in my hands with the whole family watching."
They had tried in vain to get him admitted to a hospital, but he passed away at home.
Mellan told Bohwasi that although she was attending online lectures, she understood very little.
"He advocated for me at the school so that I could get counseling." Her assigned counselor, Dr. Mazvita Machinga, assured her "that some of my feelings and thoughts were very normal. I had to heal slowly, and I felt better with time."
Mellan is hopeful but concerned about her future.
She admitted that her biggest worry is that her mother will be unable to pay for her education.
Mellan's dream is to receive enough financial assistance to finish her degree, find employment and ease the financial strain on her mother.
excerpt from a story by Barbara Dunlap-Berg, freelance writer in Carbondale, Illinois.
One of seven apportioned giving opportunities of The United Methodist Church, the Africa University Fund transforms Africa by educating and empowering students from across the continent through Africa University, the first fully accredited, United Methodist-related educational institution on the continent. The Africa University Fund supports the general operating expenses of Africa University including faculty and staff salaries and vital infrastructure. Please encourage your leaders and congregations to support the Africa University Fund at 100 percent.