"Being part of a church family has taught me the value of being Christlike," said LeAndra Feight, enrolled in the Doctorate of Physical Therapy program at St. Francis University, Loretto, Pennsylvania. "I have been blessed to have many role models to nurture me."
Growing up in a close-knit family in Imler, Pennsylvania, LeAndra participated in Girl Scouts, youth group, school clubs and piano lessons. "Although we were far enough from a town to take advantage of many activities," she noted, "we could enjoy God's beautiful country. We hiked, kayaked, rode bikes and camped in the summer and made snowmen and sledded in the winter."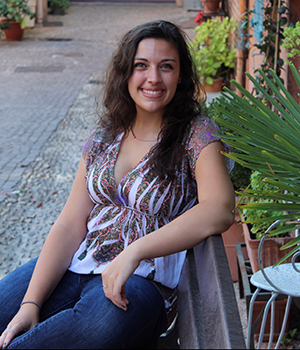 LeAndra Feight, relaxing.
A challenge, however, was bullying at school. "This took me many years to learn to deal with all the stress and heartache," LeAndra said, "but helped make me the person I am today, and I learned to be there for others going through the same thing."
She has fond memories of Alum Bank United Methodist Church. She loved youth group. "We went to Winter Jam, camped, cleaned the church and had lessons in the classroom," she recalled. "The bigger lessons, which influenced me for life, were activities like packing meals for Stop Hunger, raising money for Nothing But Nets, and helping with mitten and clothing drives.
"All this helped promote leadership qualities in me," LeAndra said. "My church family helped me become more confident. This unconditional love and compassion for others made me feel more prepared to be a Christlike example."
She read about United Methodist Student Day in her church bulletin, applied and was delighted to receive a Gift of Hope scholarship.
"Receiving this scholarship allowed me to have less stress and to work fewer hours," LeAndra said, "which gave me more time to study and take part in community service activities. It also gave me hope and a sense of well-being, knowing the church believes in me."
United Methodists should support Student Day, she asserts, because it keeps young adults connected to the church and reminds them to help others as they have been helped.
LeAndra's career choice is physical therapy. She views it as a rewarding job, "where you can help a person maintain their dignity and regain the highest level of independence. Everyone deserves to be treated with respect."
Involved in a variety of community-outreach projects as a college student, LeAndra is eager to pursue her chosen vocation. "After graduation and passing my state boards," she said, "I would like to be a traveling physical therapist to help cover where a PT is most needed – and go on a mission trip."
United Methodists celebrate Student Day on the last Sunday in November (Nov. 29, 2020). The churchwide special offering supports United Methodist scholarships and the United Methodist Student Loan Fund. Please give generously!
Barbara Dunlap-Berg, freelance writer and editor, retired from UMCom
One of six churchwide Special Sundays with offerings of The United Methodist Church, United Methodist Student Day calls the church to support students as they prepare for life in uniting faith with knowledge. The special offering provides scholarships for qualified United Methodist applicants.
When you give generously on United Methodist Student Day, you support students as they prepare for life in uniting faith with knowledge. Give now.