Jesus said, "I came so that they could have life — indeed, so that they could live life to the fullest" (John 10:10, CEB). United Methodists value human life, from pregnancy and maternal care before we are born to our closing breaths.
God created all of us to thrive and be well. God's vision for abundance creates conditions that allow all people to thrive and live out the fullness of their days. Abundant life includes health and wholeness, with ready access to good healthcare to sustain every person.
Yet ready access to health care is not available to all. Because we value all life, The United Methodist Church declares, "Health care is a basic human right… and… [i]t is unjust to construct or perpetuate barriers to physical or mental wholeness or full participation in community." United Methodists take these two statements seriously both in our hands-on ministries and in our advocacy for ready access to health care across the globe.
A history of hands-on health care
John Wesley, the founder of Methodism, believed that God cares about the whole person. In a letter to Alexander Knox in 1778, Wesley wrote, "It will be a double blessing if you give yourself up to the Great Physician, that He may heal soul and body together. And unquestionably this is His design. He wants to give you … both inward and outward health." Good health was a central part of Wesley's ministry. He directly addressed the lack of health care for the poor in his time. He made free medicine and medical care available at The Foundery in London and other clinics set up in Methodist chapels and society halls throughout Britain. Wesley also wrote Primitive Physick, a popular and affordable publication that offered remedies for all kinds of ailments, physical and behavioral, and gave health advice for those without access to professional medical care. It remained an inexpensive best-seller in Britain throughout the 18th and 19th centuries.
United Methodists on health care for all
Following the Civil War in the United States improvements in medical care expanded rapidly and hospitals began to be built. The first Methodist hospital in America opened in Brooklyn in 1887. Methodists across the country continued establishing hospitals into the early 1900s. Many hospital systems in the U.S. today trace their roots to these Methodist efforts. Around the world, hundreds of United Methodist hospitals, clinics and community-based health programs have helped protect economically vulnerable communities from preventable causes of disease and death.
Health care remains one of the primary focuses of hands-on United Methodist mission work worldwide, with over 100 health care mission projects and missionaries — including hospitals, clinics, physicians, public health specialists, health educators, mental health services and health transit services — supported worldwide.
A history of advocating for health care
Because Methodists have been doing the hands-on work of providing for health care for centuries, Methodists have deep awareness of what is needed to ensure greater access to health care for all, especially people who are marginalized or in poverty. That is why United Methodists call for health care based on a system that values human beings first and do not treat health or healthcare as a commodity. And that is why we encourage hospitals and health care practitioners to provide access to primary health care to all people regardless of their healthcare insurance coverage or ability to pay.
Methodist advocacy work for health care in America began in earnest with the adoption of its original Social Creed in 1908. No other denomination in the world had a statement of social commitments, witness, and teaching like this at the time. Many other denominations, including the Catholic Church, have used the Social Creed as a basic model on which to build their own social teaching. And Methodists have used the Social Creed to continue to advocate for heath care for all, starting, in the words of 1908, with "the protection of the worker from dangerous machinery, occupational diseases, injuries and mortality … and … the regulation of the conditions of labor for women as shall safeguard the physical and moral health of the community."
Learn more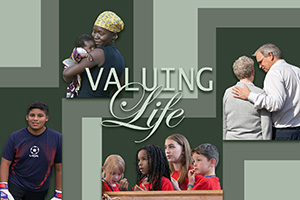 United Methodists worldwide seek to bring abundant life to people at every stage through the hands on ministries we support and the advocacy we do.
The ground of United Methodist advocacy for health care is now found in the Social Principles ("Right to Health Care") and the resolution, "Health Care for All in the United States." Despite its title, this resolution is used worldwide as a basis for witness by United Methodists to their own governments.
In the "Right to Health Care," United Methodists are clear about both individual and government responsibility to provide health care for all. "Providing the care needed to maintain health, prevent disease, and restore health after injury or illness is a responsibility each person owes others and government owes to all, a responsibility government ignores at its peril."
United Methodists do not use the secular language of human rights when talking about rights for individuals or responsibilities for governments. United Methodists appeal to the biblical understanding of God's expectations of individuals to care for one another and governments to provide for the basic needs of the governed, including their health. "Right to Health Care" points explicitly to the witness of the prophets, including Ezekiel, who excoriated their governments for failing to "strengthen the weak, heal the sick, bind up the injured."(Ezekiel 38:4). That failure, Ezekiel and others noted, was among the reasons God destroyed their governments and carried their people away into exile.
In the resolution "Health Care for All," United Methodists expand on the understanding of our duty to one another, using Jesus' parable of the Good Samaritan.
The provision of health care for all without regard to status or ability to pay is portrayed in the parable of the Good Samaritan (Luke 10:24-35) as the duty of every neighbor and thus of every person. In a conversation that began with the question of how one might obtain eternal life, Jesus asserted that one must love God and one's neighbor. In response to the next question as to who one's neighbor is, Jesus portrayed a Samaritan, an outsider, who, coming upon a wounded traveler, provided him with health care. Jesus portrayed the duty to provide health care as (1) one that is owed regardless of the merit or ethnicity of the person in need; (2) one that is owed to the limit of one's economic capacity — the Samaritan told the innkeeper, "Take care of him; and when I return, I will pay you back for any additional costs" (v. 35); and (3) a duty that one neglects at the peril of one's eternal life (Health Care for All in the United States).
United Methodist social and political advocacy for health care thus emanates not from partisan ideologies, but from scripture itself.
Jesus' commitment to healing the sick and John Wesley's vision for ensuring health and well-being teach us that we must not neglect the health of our neighbors, but that we must, and can, both offer such care ourselves and advocate for the fullest health and wholeness for every neighbor.
As disciples of the One who came that we might have life and have it abundantly, United Methodists are called and empowered to help all people thrive by our actions and our advocacy for health care for all.
---
Ask The UMC is a service of United Methodist Communications.