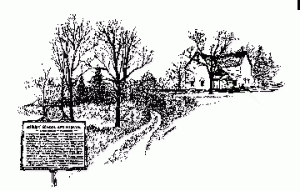 The Asbury Manual Labor School and Mission, which opened in 1822, is a Heritage Landmark of The United Methodist Church. The mission school, located in Fort Mitchell, Ala., was founded to teach children of the Creek Nation.
Fort Mitchell was built by the Georgia militia in 1813 during the Creek War on the main Indian trade route to the Tombigbee River. It was the trading post for the southeast from 1817 to 1820, and a military post until 1840.
In September 1821, the South Carolina Annual Conference sent the Rev. William Capers to Fort Mitchell as "missionary in South Carolina and to the Indians." After negotiations with the chiefs of the Creek Nations, he opened the Asbury Manual Labor School and Mission in 1822 to teach Creek children reading, writing, and other "civilized" skills.
The mission was one mile north of Fort Mitchell near the Indian village of Coweta and may have been the first formal educational effort in the Chattahoochee Valley. The school opened with twelve pupils under the direction of Rev. Isaac Smith. Throughout its history, the school had, on average, 35 to 50 students. There were soon three teachers, several buildings, and a farm of about 25 acres. The school closed in 1830 with the forced removal to Oklahoma of much of the Creek tribe.
William Capers (1790-1855) was a native of South Carolina. He was the Superintendent of the Asbury Mission from 1821 to 1824, and during most of this time was also pastor of the Milledgeville, Georgia, station. In 1829, he began a mission to enslaved people in the Charleston district, and later was Superintendent of missions to enslaved people on islands off the Georgia coast. Capers was elected bishop of the Methodist Episcopal Church, South, at its first General Conference in 1846. He died at Anderson, South Carolina, on January 29, 1855.
Isaac Smith (1758-1834) was a Revolutionary War veteran who crossed the Delaware with Washington. He was General Lafayette's aide near the end of the Revolution. He was converted by Francis Asbury, and is considered one of the founders of Methodism in South Carolina. In 1796 he left the ministry and became a businessman in Camden, South Carolina.
In 1820, at the age of 62, Smith re-entered the ministry, and the following year was named a presiding elder in Athens, Georgia. He was dubbed the "St. John of the South Georgia Conference." Smith served the Asbury Manual Labor School until his retirement from the ministry in 1827, at the age of 69. He died seven years later at his daughter's home in Marion County, Georgia.
Taken with permission from Heritage Landmarks: A Traveler's Guide to the Most Sacred Places in The United Methodist Church, by the General Commission on Archives and History. Read more here.