"As a PK (preacher's kid) it is not always easy to adjust to the dynamics that come with itinerant ministry. The challenge comes when it is time to move to a new church, new school district, make new friends, and the longing we experience when we miss our old friends," said Anna Wilson. "Thankfully, our parents were always very supportive of my brother and me which helped to soothe the disconnect we felt at times."
When Wilson received an email sharing information about the United Methodist Student Day Gift of Hope scholarship, she decided to apply for the scholarship.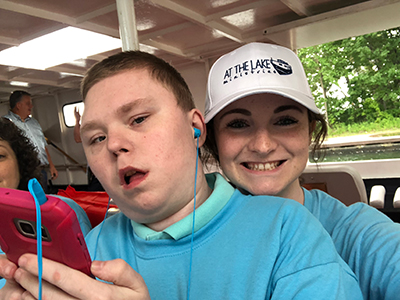 Courtesy photo.
Your gifts on United Methodist Student Day, enables The United Methodist Church to supports the Gift of Hope Scholarship so that students can prepare for life in uniting faith with knowledge.
"This scholarship has changed my life. It has decreased our families' financial burden for the cost of college. It has shown me that The United Methodist Church cares about my education and that they will support me," said Wilson.
When Wilson is not studying, she spends her time volunteering at At The Lake Ministries, a ministry that her father founded in 2016. "At the Lake Ministries offers people living with disabilities and their caregivers a fun, family-oriented experience aboard The Jo-Ann M boat on Lake Erie and/or Presque Isle Bay. Participants can fish or simply experience the wonderful natural resources the region has to offer," said Wilson.
She prepared the ministry's soft launch, created the logo and other promotional items, and spends time going out on the water with guests during the summer months. She is also a spokesperson for the ministry.
"The Western Pennsylvania Annual Conference has been so supportive of the ministry and welcomed it under their camping umbrella," explained Wilson. At other times Wilson volunteers with her church's youth group, vacation bible school, and, mentoring first-year college students.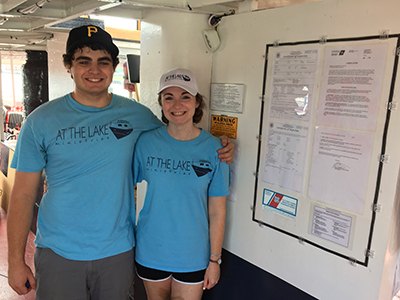 Courtesy photo.
Wilson is a student at the University in Mount Union in Ohio and plans to teach early childhood education after she graduates.
"I am open to the idea of going back to school to get my certification to teach art K-12 or possibly getting my master's degree. Wherever my career takes me," said Wilson, "I plan to be involved in The United Methodist Church and hopefully become a youth group leader one day."
"The United Methodist Church has been very supportive of my career path," said Wilson. "I will use my faith in my career to demonstrate to children that they are loved and cherished. My educational philosophy is that every student should feel secure that they have worth and value and that they are capable of learning. I plan on sharing Jesus's love by loving my students and encouraging them in their studies."
Elsie Cunningham, freelance writer, UMCom retiree, now living in Jamaica
One of six churchwide Special Sundays with offerings of The United Methodist Church, United Methodist Student Day calls the church to support students as they prepare for life in uniting faith with knowledge. The special offering provides scholarships for qualified United Methodist applicants.
When you give generously on United Methodist Student Day, you support students as they prepare for life in uniting faith with knowledge. Give now.