Walking barefoot to primary and secondary school in Mozambique, Ezequiel Marcos Nhantumbo, Africa University alumni 1996, always thought he would become a teacher. He studied hard and earned good grades.
Your support of the Africa University Fund apportionment supports the general operating expenses of Africa University including faculty and staff salaries and vital infrastructure.
"I was born in the village of Chicuque," he recalled, "where the United Methodists had found roots to establish a mission field, pursuing religious activities already started in Cambine Mission.
"We all were taught to do anything from farming, fetching water miles away from home, pounding and grinding corn, cooking, raising livestock and fishing."
His father, a trained theologian, later became a primary school teacher, and his mother was a homemaker. Moving often with his parents and five siblings, Ezequiel said, "allowed us to learn from many challenges."
He loved participating at Chicuque United Methodist Church.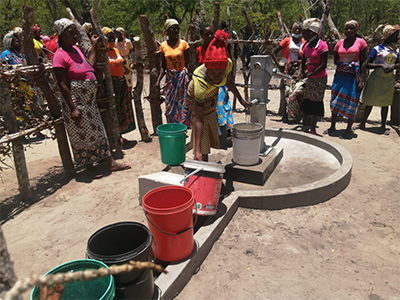 Consistent access to clean water saves women from walking long distances and relying on unsafe water sources.
"I assumed many leadership positions for the youth and young adults," Ezequiel said. "Singing in the choir and participating in retreats and workshops were my favorites. I began to realize the relevance of the church in society as a transforming body."
In Mozambique, primary and secondary education is free or affordable for most. Continuing education, however, is another story. "The country has one public university for nearly 30 million people, and private colleges were – and even now are – impossible to the pocket of a resourceless person," Ezequiel said.
The Ministry of Education allowed high-performing students to further their education beyond secondary school, while those with lower grades were sent to the army. Ezequiel's efforts paid off. He was assigned to a college of agriculture for four-year training.
During the late '80s, Ezequiel was excited to hear that a United Methodist-related institution was being established in Mutare, Zimbabwe. "I never thought this could be a possibility," he recalled.
At AU, Ezequiel met students from conflicting African nations. It was "the right place to be," he said, "for academic excellence, as we learned different perspectives of each country's challenges and [gained] opportunities for social and economic development."
After earning a Bachelor of Science degree in agriculture and natural resources, Ezequiel felt an urgent need to return home and help rebuild Mozambique, which had struggled with unrest for many years. "Mozambique was starting to reopen," he said, "and graduates like myself [would offer] tools and skills that are relevant, topical and definitely add value.
Ezequiel worked for a Methodist agriculture and rural development project for five years. For the past 20 years, he has served as the country representative of the Mozambique-Missouri Initiative, a partnership in mission between the Missouri Annual Conference and the United Methodist conferences of Mozambique.
Ezequiel, now married and the father of five children, credits AU with giving him "insights to realize possibilities which seemed impossible in my life," he said. "It equipped me with the vision of pursuing more. Today, I have a master's degree in translation and interpretation studies, and I serve as an official translator. While traveling extensively as part of my work, I always have AU in mind and transmit learning experiences acquired at the campus to help the world understand there is hope for Africa."
"Africa University," Ezequiel concluded, "is a place to be. One feels God's spirit present on campus. It is a community of faith, love and hope. AU continues being a perfect fit and a model for higher education in Africa."
excerpt from Barbara Dunlap-Berg, freelance writer and editor, living in Carbondale, Illinois.
One of seven apportioned giving opportunities of The United Methodist Church, the Africa University Fund transforms Africa by educating and empowering students from across the continent through Africa University, the first fully accredited, United Methodist-related educational institution on the continent. The Africa University Fund supports the general operating expenses of Africa University including faculty and staff salaries and vital infrastructure. Please encourage your leaders and congregations to support the Africa University Fund at 100 percent.