"My journey started at Africa University, but it's certainly far from over," said Dr. Gareth Horsfield.
Your support of the Africa University Fund apportionment supports the general operating expenses of Africa University including faculty and staff salaries and vital infrastructure.
Growing up in Zimbabwe's Vumba Mountains, Gareth described his childhood as "idyllic." The son of a mechanic and a nurse, he was free to explore the forests, build forts and ride his bicycle for miles.
"Fortunately, my father's employer paid for me to attend Hillcrest Preparatory School and College," Gareth said. "I loved school and was involved in many clubs and sports. My parents did not have the resources to send me abroad to university. I took a gap year and taught at a school in northern Zambia. I had always wanted to be a teacher.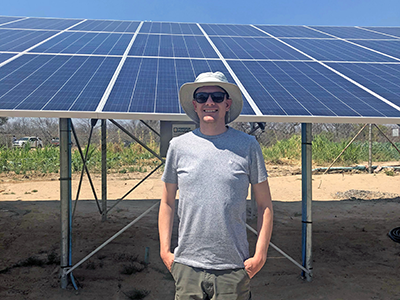 Dr. Gareth poses in front of solar panels. Courtesy photo.
"I realized that while my peers were abroad studying," he continued, "we had an exceptional university a stone's throw from Mutare – Africa University." In 2004, Gareth began studies there toward a bachelor's degree in agriculture and natural resource management.
"I absolutely loved my studies at AU, even though I stuck out as 'that white guy,'" he said. He quickly formed a close-knit group of friends from across the continent. He participated in chapel services at the United Methodist university.
"In my first year," Gareth remembered, "I fell in love with Professor Fanuel Tagwira's soil science classes." Applying his chemistry knowledge from high school, Gareth spent his free periods in the soil science lab, assisting with soil analyses. Finishing his first year at the top of his class, he had an "incredible opportunity" to be an exchange student at Kalamazoo College in Michigan.
Gareth credited that experience with changing the trajectory of his life.
"The liberal arts approach to learning," he said, "gave me the opportunity to attend an array of different classes, from pure science [to] politics and fine art. I ended up double-majoring in international development and gender studies and minoring in biochemistry. I worked in the college's international office and helped prepare students for study-abroad experiences." After his year in the United States, he returned to AU.
"My third and final year at AU," Gareth said, "was very intense as I caught up with missed classes, majored in animal science and conducted my research project on the Africa University farm." He graduated in June 2007 with a Bachelor of Science honors degree.
"I remember looking back at my dad, wiping the tears from his eyes as I was the first Horsfield to attend and graduate university," Gareth said. "I never thought I was clever enough to have achieved what I did, but it was always my dream to graduate. I got a job at Prince Edward School in Harare, teaching biology, chemistry and biology."
Awarded a scholarship to further his education in the United Kingdom, Gareth chose to study toward a Master of Science degree in applied development studies at the University of Reading. He graduated with distinction in 2009.
Accepting a position as head of chemistry at St John's College – the youngest ever in that post, Gareth headed back to Zimbabwe. At the University of Reading's Graduate Institute for International Development and Applied Economics, he concentrated on "Investigating the Construction of Gendered Perceptions of Communal Farmers in Agroecological Zones II and III of Zimbabwe."
He found lecturing rewarding and graduated with a doctorate in international and rural development.
Two weeks later, Gareth joined the Swedish International Development Cooperation Agency, based at the Swedish Embassy in Harare. He developed their new portfolio area on environment, climate change and resilience.
"The first program funded in the portfolio [was] the Zimbabwe Resilience Building Fund, a $100-million initiative with 1.3 million smallholder beneficiaries," Gareth said.
After almost five years with the embassy, Gareth was encouraged to apply for a position as United Nations Development Program resilience advisor. Today, he guides the Zimbabwe Resilience Building Fund, the Green Climate Fund and UNDP accelerator labs. He partners with other U.N. agencies such as UNICEF, the World Food Program, and the Food and Agriculture Organization.
Africa University proved life changing, Gareth said.
To United Methodists considering a gift to Africa University, Gareth said, "Please know that you are changing lives and investing in young people who have the potential to change their countries, Africa and the world."
excerpt from a story by Barbara Dunlap-Berg, freelance writer and editor. She lives in Carbondale, Illinois.
One of seven apportioned giving opportunities of The United Methodist Church, the Africa University Fund transforms Africa by educating and empowering students from across the continent through Africa University, the first fully accredited, United Methodist-related educational institution on the continent. The Africa University Fund supports the general operating expenses of Africa University including faculty and staff salaries and vital infrastructure. Please encourage your leaders and congregations to support the Africa University Fund at 100 percent.