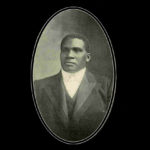 Alexander Priestly Camphor, who was born to Black enslaved parents and later adopted by a white Methodist minister, became the last elected missionary for Liberia of the Methodist Episcopal Church.
Camphor was born in Jefferson Parish, Louisiana, in 1865. After his parents died when he was a young child, Camphor was adopted and raised by Stephen Priestly, a white Methodist minister.
Camphor was educated in Methodist Freedmen's Aid schools, established in the south after the American Civil War. In 1887, he graduated from New Orleans University. He taught mathematics there for four years and organized the Friends of Africa Society. He graduated from Gammon Theological Seminary in 1895, after which he did postgraduate work at Columbia University and Union Theological Seminary, New York.
Camphor and his wife, Mamie (Weathers), whom he married in 1893, were commissioned by the Methodist Episcopal Church in 1896 as missionaries to Liberia. He served as superintendent of Methodist schools in Liberia from 1896 to 1907. He also served as president of the College of West Africa (formerly Monrovia Seminary) until 1907, when he and his wife returned to America, where they remained for nine years.
In 1916, Camphor was elected the last missionary bishop for Liberia of the Methodist Episcopal Church and he returned to Liberia for three years. He died in South Orange, New Jersey.
Bibliography
Alexander Camphor, Missionary Story Sketches: Folklore from Africa (1909, 1981).
See also Wade Crawford Barclay, History of Methodist Missions, 4 vols. (1949-1973);
Frederick Leete, Methodist Bishops: Personal Notes and Bibliography (1948);
Walter Williams, Black Americans and the Evangelization of Africa 1877-1900 (1982).