United Methodist bishops in Africa have pledged to transform agriculture from the current subsistence farming to commercial ventures that can financially support the church.
Bishops attending the first United Methodist Board of Global Ministries/United Methodist Committee on Relief agricultural summit said agriculture is a major issue affecting health and economic independence and can be an effective evangelism tool.
Bishop John K. Yambasu, Africa College of Bishops president, said it is time for the church to invest seriously in agriculture.
"Currently, agriculture is a kind of vocation. The only notable projects are in Cote d'Ivoire, Liberia, Democratic Republic of Congo and Zimbabwe," he said.
"The type of farming we need is geared toward economic independence — something beyond the kind of peasant agriculture generally practiced in Africa," Yambasu said.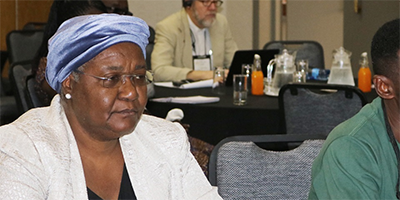 Bishop Joaquina F. Nhanala of Mozambique and agricultural missionary Innocent Afful listen to The United Methodist Church's plans for existing land in Africa during an agricultural summit held Jan. 13-16 in Johannesburg. Photo by Eveline Chikwanah.
Six bishops attended the summit. "This is an endorsement of the importance of the gathering and the agriculture projects that will come out of the conversations here," he said.
"From this summit, I am going into action," said Yambasu, who leads the Sierra Leone Episcopal Area. He said the country already has a conference committee for agricultural development that has been brainstorming agriculture enterprise and possible sites for the ventures.
Bishop Gaspar J. Domingos of the West Angola Episcopal Area said the church has prioritized health, education and agriculture since the arrival of the first missionaries.
"Each church station has its own fields for agriculture, not only to sustain pastoral work but to also support church activities.
Bishop Kasap Owan, South Congo Episcopal Area, said missionaries had agriculture projects producing crops, eggs and chickens, but the projects collapsed when the missionaries left.
"No one was able to carry on," Kasap said.
"Since 2012, we have established two agriculture colleges: Katanga Methodist University at Mulungwishi and Kapanga School of Agriculture and Veterinary Sciences. But the problem is people do not want to go to school to learn agriculture," he said.
The Nigeria Episcopal Area has an agriculture program director in each of its four annual conferences.
"For the past two years, we have concentrated on forestry and have been planting tree seedlings in order to address climate change and desertification. This was done with German mission board support," said Bishop John Wesley Yohanna.
Agriculture in the Mozambique Episcopal Area was boosted by the arrival of missionary John Nday at Cambine.
Bishop Joaquina F. Nhanala said Nday established some small vegetable and chicken projects but the area was planning to expand the operations.
In the Zimbabwe Episcopal Area, the concept of "The Lord's Acre," where local churches had land whose produce was sold to support the church, needs to be revived, said the Rev. Alan Masimba Gurupira, administrative assistant to Bishop Eben K. Nhiwatiwa,.
"The program slackened possibly because agricultural produce was not marketable, but after this summit, we can inject new interest in The Lord's Acre at (the) grassroots level," he said.
Eveline Chikwanah, communicator of the Zimbabwe East Conference.
One of seven apportioned giving opportunities of The United Methodist Church, the Episcopal Fund pays for bishops' salaries, office and travel expenses, and pension and health-benefit coverage. Please encourage your leaders and congregations to support the Episcopal Fund apportionment at 100 percent.