Working with Zimbabwe's National Tuberculosis Program, Africa University supports interventions to improve tuberculosis data management, clinical competencies and research coordination.
In July 2020, the United States Agency for International Development (USAID) provided the Africa University College of Health, Agriculture and Natural Sciences four grants totaling US$480,000.
Your support of the Africa University Fund apportionment supports the general operating expenses of Africa University including faculty and staff salaries and vital infrastructure.
These TB Commitment Grants will enable AU to support the development of a national TB research technical working group, increase access to specialized care through implementing the Extension for Community Health Outcomes (ECHO) approach, strengthen tracking of TB training information by expanding an online-database known as TrainSMART, and train to build competencies in the use of tuberculosis data at all levels.
The fixed-amount awards implement locally generated solutions focused on TB outputs and results. Through a co-design process, Tuberculosis Implementation Framework Agreement will work closely with the Zimbabwe National Tuberculosis Program (NTP) and USAID to develop a concept paper with specific activities to be funded by the grant.
Dr. Eltony Mugomeri, the project manager, said his research in infectious diseases, including TB, piqued his interest.
"My past research experience on TB," he said, "includes diagnostic techniques for TB in the high HIV/TB burden settings, tuberculosis infection prevention and control, and evaluation of the effectiveness of isoniazid preventive therapy."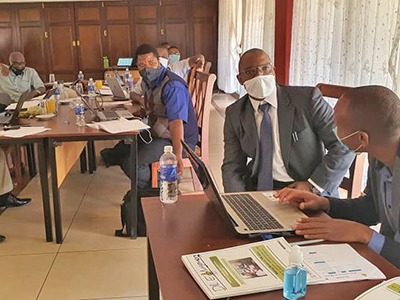 Photo courtesy of Africa University.
In February 2021, Mugomeri reported that ECHO recently was extended to Phase 2 under a new grant worth US$166,531. With the additional funds, the project will expand to two new provinces, Midlands and Bulawayo, from January to December 2021.
According to the grant proposal, the major outcome is to provide evidence for TB program performance, decision making and planning. The project will seek to address barriers to TB care and make TB services more patient-centered.
With Mugomeri at the helm, four co-investigators will oversee specific aspects of the project: Dr. Fadzai Mutseyekwa, TB Research Technical Working Group; Joseph Chinzvende, ECHO; Richard Fotsin, TrainSMART; and Elliot Chikaka, Making Sense of TB Data. Chinzvende holds an Executive MBA from Africa University. Fotsin, AU director of ICT was a member of the pioneer MBA class at the university.
The ECHO platform encourages sharing knowledge with health care workers in rural and underserved areas. TrainSMART will allow the NTP to track data on TB training programs in Zimbabwe.
Africa University will provide the expertise on TB research and assist the NTP with project coordination and grant fund management. The project will benefit AU by setting the stage for more basic TB research.
According to the World Health Organization, Zimbabwe is a high-burden country for TB, MDR-TB as well as TB/HIV co-infection.
Mugomeri brings rich experience to the project. He led a team from Lesotho in a research effort that also included South Africa, Zimbabwe, and Bangladesh. "Part of my doctoral study on tuberculosis was selected for oral presentation at the 2018 International Aids Society conference," he said. Mugomeri is a member of the Infection Control Africa Network, a pan-African organization that promotes and facilitates the establishment of infection-control programs in Africa.
Barbara Dunlap-Berg, freelance writer and editor, retired from UMCom
One of seven apportioned giving opportunities of The United Methodist Church, the Africa University Fund transforms Africa by educating and empowering students from across the continent through Africa University, the first fully accredited, United Methodist-related educational institution on the continent. The Africa University Fund supports the general operating expenses of Africa University including faculty and staff salaries and vital infrastructure. Please encourage your leaders and congregations to support the Africa University Fund at 100 percent.