The Africa University Board of Directors gathered virtually from October 19-23 to address essential business and chart the institution's course as it adapts and serves amidst a global public health crisis and resulting socio-economic challenges.
Your support of the Africa University Fund apportionment supports the general operating expenses of Africa University including faculty and staff salaries and vital infrastructure.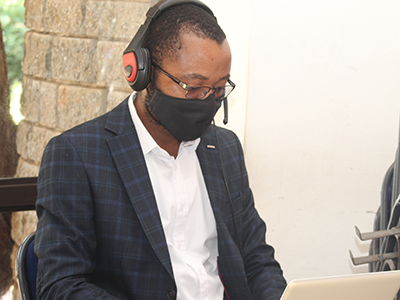 Courtesy photo.
Board members commended the administration for taking bold, strategic decisions at the onset of the crisis. In February, Africa University activated its rapid response team to focus on protecting the health and wellbeing of students, faculty and staff and the sustainability of university operations. In March, responding to public health protocols aimed at containing the spread of Covid-19, Africa University moved all teaching, learning and student assessment online. The academic year concluded in June, with 97 percent student participation through the university's Moodle learning platform.
In his state of the university report to Board members, Vice Chancellor Munashe Furusa highlighted enrollment growth, despite the continuation of online only instruction in August. There are 3,031 students from 28 African countries enrolled for the 2020-2021 academic year. About 77% of the students are nationals of Zimbabwe, while 23% are non-nationals. Female students comprise 57.1% of the total enrollment.
The growth in enrollment is credited to Africa University's information technology and online learning infrastructure as well as its student-centered actions and retention measures. The university has adjusted its fees to free up funds for home-based internet access, increased counseling and mental health support, and assisted students who struggled with online learning due to electricity, internet access and other challenges in returning to the campus. Currently, there are around 275 students housed in single rooms and accessing lectures online from the university dormitories.
Board members joined the university leadership in celebrating these key accomplishments:
New international and local partnerships that market Africa University to new groups of potential students and improve access through scholarship grants. These include:

A- linkage with the NCUK consortium of leading universities on the United Kingdom and Australia; and
Five years of scholarship support for four full-time students from Stanbic Bank Zimbabwe.

The completion of the Highland Park Student Union building constructed with a gift from Highland Park United Methodist Church in Dallas, TX.
The installation of solar power facility to assure consistent electricity supply to campus facilities.
The production and national distribution of hand sanitizer liquid and face coverings to frontline workers.
Student-led interventions to ease Covid-19-related hardships for vulnerable families.
Andra M. Stevens, Director, Communications, Africa University Development Office
One of seven apportioned giving opportunities of The United Methodist Church, the Africa University Fund transforms Africa by educating and empowering students from across the continent through Africa University, the first fully accredited, United Methodist-related educational institution on the continent. The Africa University Fund supports the general operating expenses of Africa University including faculty and staff salaries and vital infrastructure. Please encourage your leaders and congregations to support the Africa University Fund at 100 percent.