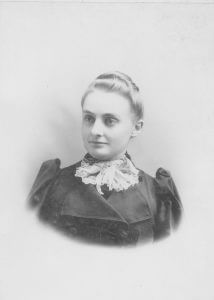 Born in Lawrenceville, Wisconsin, Minnie F. Abrams attended the Methodist-related Chicago Training School for Home and Foreign Missions. She arrived in Bombay, India, in 1887 as a missionary with the Woman's Foreign Missionary Society of the Methodist Episcopal Church. In 1898, she left the Methodist post to work with Pandita Ramabai at the (undenominational) Mukti mission in Kedgaon.
When word of the Welsh Revival reached India, spiritual awakenings soon occurred in many Protestant mission stations beginning in early 1905. Subsequent events at Mukti became well known through reports of extended times of prayer, public confession of sins, visions, dreams, and a burning sensation felt by those seeking the sanctification and baptism of the Holy Spirit.
Abrams, an advocate of Wesleyan holiness theology, viewed baptism in the Holy Spirit as a separate work of grace occurring after conversion and designed to sanctify and empower believers for evangelism. She traveled widely in India promoting revival, and her holiness views were popularized through a series of articles published in 1906 entitled, "The Baptism of the Holy Ghost and Fire," which appeared in two major Christian newspapers in India: The Bombay Guardian (independent) and The Indian Witness (Methodist).
When word of the Azusa Street revival (Los Angeles, California) reached India later that year with news of the restoration of the gifts of the Holy Spirit (e.g. speaking in tongues, prophecy), Abrams and others at the mission prayed that they, too, might receive the fullness of the Spirit. When this new impetus gave fresh life to the revival there, Abrams revised her newspaper articles and published them in book form with the title The Baptism of the Holy Ghost and Fire (1906). Unlike many other Pentecostals, however, she did not insist on the evidential nature of tongues for baptism in the Spirit.
A year later, Abrams sent a copy of her book to former Chicago Training School classmate May Hoover and her husband Willis Hoover, M.D., Methodist missionaries in Chile. The revival in Chile that followed led to the founding of the Methodist Pentecostal Church and the larger Pentecostal movement in that country.
Abrams died from a fever in 1912 while evangelizing unreached people in India in the company of several other single women missionaries.
By Gary B. McGee.
This article is reprinted from Biographical Dictionary of Christian Missions, Macmillan Reference USA, copyright 1998. Gerald H. Anderson, by permission of Macmillan Reference USA, New York, NY. All rights reserved. It is taken, with permission, from the History of Missiology.