The phase two expansion of the Ndorimana Bonaventure Dining Hall and Student Union building at Africa University is complete. The addition was one of two construction projects funded by a $2 million gift from Highland Park United Methodist Church in Dallas, Texas. The church invested in enhancing the quality of student life with funding for a new residence hall for female students and expansion of the student union facilities.
Speaking at the formal handover ceremony on July 20th, Vice Chancellor Munashe Furusa thanked the congregation, its senior pastor, Rev. Paul Rasmussen, and HPUMC member and Africa University (Tennessee) Board chair, Mrs. Lisa Tichenor, for their leadership and support.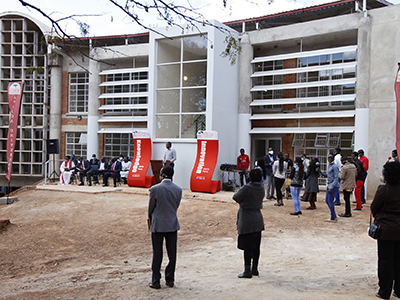 Courtesy photo.
"This (facility) will become the vibrant center of campus life. Students of AU, know that this building has been built with love for you, for the promise you hold, and for the Africa that you shall create," Furusa said. "We believe that in order for you to deliver excellence, you must experience it."
Fiston Okito, a divinity student from the Democratic Republic of Congo and vice president of the Students Representative Council, spoke on behalf of the student body.
"We are so grateful for the funds that have seen the construction of this ultra-modern building that stands as one of the best in the country and region, " Okito said. "We are so grateful to Highland Park UMC for their love and faithfulness to the vision."
The new construction improves access to the building for persons with disabilities and expands the space available for entertainment as well as services such as a barbershop, salon, store and gym. A portion of the HPUMC gift was used to build and equip a new residence hall for female students. That building was completed in January 2020 and houses about 130 students.
Andra M. Stevens, Director, Communications, Africa University Development Office
A World Service Special Gift is a designated financial contribution made by an individual, local church, organization, district or annual conference to a project authorized as such by the Connectional Table. Current World Service Special Gifts projects include the Africa University Endowment Fund, the Leonard Perryman Communications Scholarship for Ethnic Minority Students, the Methodist Global Education Fund, the National Anti-Gambling Project and the Lay Missionary Planting Network.