Adopted as a 6-month-old from St. Petersburg, Russia, Katrina Lewis grew up in St. Marys, Pennsylvania. "My parents," she said, have always done all they could to provide the best life possible for me and my siblings, and I am so grateful to live a healthy life in this country. Growing up, I was always pursuing adventure. I was not afraid to go out on a limb to try something new."

Her parents' divorce was difficult as Katrina struggled with her self-worth. "I saw myself as a mistake and unloved," she recalled. Then her mother introduced the children to First United Methodist Church, St. Marys, which, she said, "completely changed the trajectory of my life.

"On a weekend retreat in sixth grade," she continued, "I gave my life to Christ. From that moment on, my church has been the backbone in my sanctification as a Christian. I was presented with the opportunity to attend a six-week leadership program the summer after my first year of college. With overwhelming support from my home church, I was able to be a part of this program."
She gained a renewed vision of God's path for her life. "I changed my major out of a program I was in for the wrong reason and into a major I deeply cared about," Katrina said.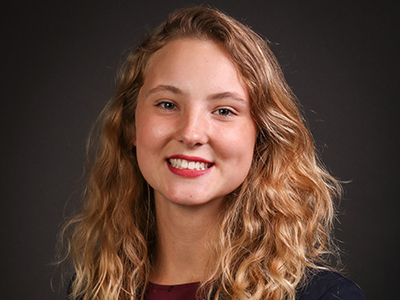 Courtesy photo.
Katrina's pastor and church family encouraged her to apply for a Gift of Hope Scholarship, funded by the
United Methodist Student Day
offering. "Their belief in me and what God has in store for my life," she said, "empowered me to apply, knowing I could not fund college alone."
Receiving the scholarship permitted her to follow God's direction for her life. "I know that God is calling me to team with him in restoring his beautiful creation," she said.
The young woman is pursuing a Bachelor of Science degree in statistics and predictive analytics at Robert Morris University, Moon Township, Pennsylvania. "My major courses are training me to analyze large data sets using advanced statistical techniques and software in order to make decisions," Katrina said. "This program is highly interdisciplinary in content, as I am required to take courses in general mathematics, statistics, database management, business, finance, programming, science and communications."
Her minor is alternative energy and sustainability. "Through these courses," she explained, "I examine the environmental, political and socioeconomic ramifications of conventional energy generation. I am gaining perspective on renewable energy technologies including biofuels, geothermal energy, hydroelectric power, hydrogen fuel cells, solar energy, tidal power and wind energy."
Her classwork and extracurricular experiences have given Katrina a deeper appreciation of natural resources and "our collective obligation to protect and defend those resources.," she said.

Katrina discovered how a simple invitation can make a huge difference when she invited her best friend to a Christian conference in Pittsburgh. "Throughout the weekend of the conference," Katrina said, "God reminded her of how much he loves her and doesn't want her to be a slave to her anxiety. Helping her on the road to restoration by the love of Jesus Christ has blown me away."

"The scholarship," she said, "has blessed me beyond comprehension. God has used that money in my life to truly transform my college experience and allow me to pursue opportunities I never thought possible. I will always remember the generosity poured out to me by my church, and the fruits God has grown through that. For a student living on a college campus, one of the most desperate demographics in this country, a scholarship provides true hope and testimony to God's generosity and goodness."

Barbara Dunlap-Berg, freelance writer and editor, retired from UMCom
One of six churchwide Special Sundays with offerings of The United Methodist Church, United Methodist Student Day calls the church to support students as they prepare for life in uniting faith with knowledge. The special offering provides scholarships for qualified United Methodist applicants.
When you give generously on United Methodist Student Day, you support students as they prepare for life in uniting faith with knowledge. Give now.