How is it with your soul? As United Methodist congregations, large and small, continue to struggle with the challenges of COVID-19, answering this Wesley-inspired question is tougher than ever. Taking time intentionally to pause and reflect on where we are in our lives and in our relationship with God often slips to the bottom of our priority list.
Are you familiar with the word Selah? It appears 74 times in the Bible, mostly in Psalms. Thirty-one of the 39 psalms containing "Selah" notations are titled "To the Choirmaster," implying that they provide musical direction. The common understanding is that "Selah" indicates a pause, a chance to reflect on what we have just heard, whether spoken or sung.
Members of the aptly named Selah United Methodist Church in Selah, Washington, are encouraged to embrace that concept. The congregation averages 45 to 50 weekly worshippers who, because of the pandemic, continue to meet online rather than in person. On a typical Sunday, the Rev. Dirk Robinson preaches, then invites people to video breakout rooms to pause, reflect on and discuss a related question for a few minutes, and then share their ideas with the congregation.
"We bear God's image," he reminded worshippers one Sunday. "What would it look like if you were to give your life back to God? What would you do differently? What changes would you make?"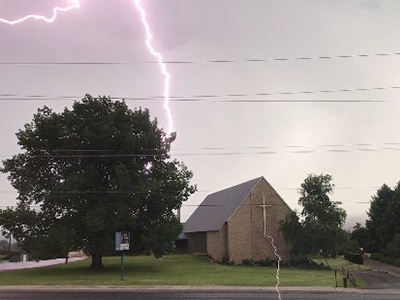 Courtesy photo.
The Rev. Kevin Dow, a retired elder in the Pacific Northwest Annual Conference, attends Selah UMC. Answering Robinson's question, he said, "If we were to give our lives back to God, the church would be richer—perhaps not in terms of money—but, rather, in terms of love, friendship and peace." Another small-group participant acknowledged that if he were to give his life back to God, he would become more involved in the church. Regretting that COVID-19 has limited her outreach opportunities, a woman said, "I love working with children, the elderly and people who need help. I miss that so much."
United Methodist congregations across the connection have expressed gratitude for the Selah Generosity Pastor and Leader Kit that, for many, has proven especially helpful during the pandemic. The kit is designed to provide the opportunity to pause and reflect on the spirit of generosity and the impact United Methodists are making around the world.
Created by United Methodist Communications, the kit contains a plethora of resources, including Bible studies, bulletin inserts, children's messages, devotionals, offering talks, podcasts, prayer flashcards, reading lists, sermon starters and videos—many in English, Korean and Spanish. Robinson said he is familiar with the kit and has used the resources to generate new ideas.
When Robinson hears the word Selah, he also thinks of fresh fruit. "Selah, Washington," he explained, "is known for its apples and other fruits. I believe my congregation finds meaning in 'Selah' as being 'home.' A lot of the congregation was raised in the area, and those who were not have come to call Selah home." While "Selah" has biblical origins, the word is also similar to a Yakama Tribe's name for a "calm and peaceful" river that flows through the region.
Selah United Methodist Church members strive to follow Jesus' example of healing the sick, feeding the hungry, advocating for the poor and marginalized—and caring for their souls. The congregation tries to live up to their mission statement: "As a sacred body that worships God, we feed the soul of our communities, serve the needs around us and open our hearts in respectful acceptance of all."
"It's important," Robinson said, "that we remind ourselves of these statements so that our practice of our faith and journey reflect what we say we stand by. Almost every Sunday, I preach about loving God with all your heart, mind, soul and strength and to love your neighbor as yourself. I believe this is the crux of our mission."
Serving Selah UMC since 2017, Robinson is also a chaplain in the Washington Army National Guard and the Yakima Training Center. He is the Joint Task Force chaplain for the Washington National Guard COVID-19 response team.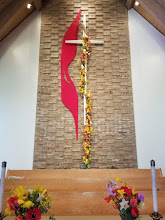 Easter Cross. Courtesy photo.
Committed to ministry outside the church walls, Robinson leads his little congregation in living out the concept of Selah in the town of 8,000 and beyond.
Before the pandemic hit, volunteers from the church served meals at Camp Hope, a camp for homeless adults and families in Yakima, just four miles south of Selah. "We packed weekend meals for students in the Yakima Valley at Northwest Harvest," Robinson recalled. "We served meals at Rod's House, a home for homeless teenagers." A grocery cart in the sanctuary held food bank donations. A United Methodist Women group met regularly.
COVID-19 restrictions have been hard on the mostly older congregation's ability to be in ministry with the community. "We are not willing to put anyone at risk," Robinson said. "We want to continue to do God's work but to be smart about how it's done."
During the pandemic, the pastor continued, "We have delivered food to families who are truly homebound and called everyone in the church to do a check-in. We are reaching out like we have never done before."

Dow agreed. "We opened our building to the county health department as a drive-thru testing site for the virus," he said, "and held a face-covering distribution for the community. A couple of months ago, when the food bank had a shortage of boxed meals (Hamburger Helper-type), we invited the congregation to respond to that need, which they did.
"When the pandemic is over," Dow said, "I am sure we will return to some of the things we can't do now. We are exploring ways to reach out to the Latinx community around us through Justice For Our Neighbors."
The congregation also has learned to participate in Sunday worship via Zoom. Parishioners in their 90s are now videoconferencing. Robinson said, "I am amazed at their willingness to get out of their comfort zone so that they can worship with their church family.
"If you had asked me at the beginning of the year if this would have been possible, I would have laughed," he admitted. "The congregation as a whole is not very tech savvy. But to be in community with their church family, they step out of their comfort zone to learn. This, to me, shows how important the church family is to this congregation."
"Sometimes," Dow noted, "God is lost in the busyness of our daily lives. COVID has interrupted those activities. The pandemic has given most of us the opportunity to pause and reflect."