"We are in a piggery business. We initially bought twelve pigs and kept them temporarily here while we waited for the rains to cease," Stella Bockarie, the Kono district women's leader, explained to us, a United Methodist media team, as we were shown around the pigpens.
"It was the peak of the rainy season. But since the twelve pigs were not enough for the whole district, some other groups opted to farm and produce feed for the pigs. About four neighboring village communities opted to support the piggery with feed. They are growing beans, cassavas and potatoes."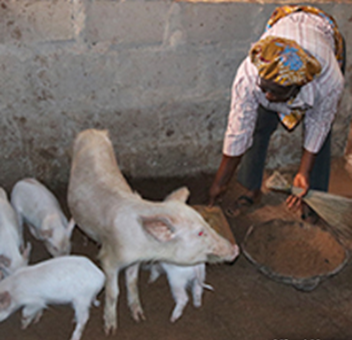 Courtesy photo. Alfred Kpana.
This is one of four recent projects to receive an economic development grant from United Methodist Women, the piggery in the Kono district in Sierra Leone, is expanding. "With their assurance and our shared hard work, we have now increased the number of pigs to 25 because we are sure of receiving their feed in the near future. Once the rainy season ends, the groups will come to pick up their share of pigs to take to their respective communities and rear them," Bockerie reported.
Your support of The World Service Fund apportionment supports program-related general agencies, which are especially important to the common vision, mission, and ministry of The United Methodist Church.
Difficult Roads to Travel
"Certainly, the coronavirus affected our project. If it were not for COVID, the other pigs would not be sitting in our own pigpen. I should have distributed them ever since," she said. Owing to the lockdowns and restrictions on movement, she was not able to deliver the pigs before the rainy season set in. Travel around the country even during normal times is difficult because of the harsh condition of the roads. The roads become worse in the rainy season and for some districts, like Kono, they become unpassable in the thick of the rainy season.
Asked about the viability of the project, she said there is a huge potential for growth because piggeries are lucrative businesses in the district. During our interview with Bockerie, the original mother pig delivered five piglets. There was a potential for expansion of the pigpen as more births of pigs were expected in the coming months.
Bockerie expressed gratitude for the economic development support received from United Methodist Women for this sustaining and expanding piggery project.
story by Keziah Kargbo, journalist on the United Methodist Women Sierra Leone Country Team.
The World Service Fund provides basic financial support to program-related general agencies, which are especially important to the common vision, mission, and ministry of The United Methodist Church. Through World Service funding, agencies support annual conferences and local congregations in living out God's mission for the worldwide Church. General agencies also provide essential services and ministries beyond the scope of individual local congregations and annual conferences through services and ministries that are highly focused, flexible, and capable of rapid response.